Bringing Agile to Success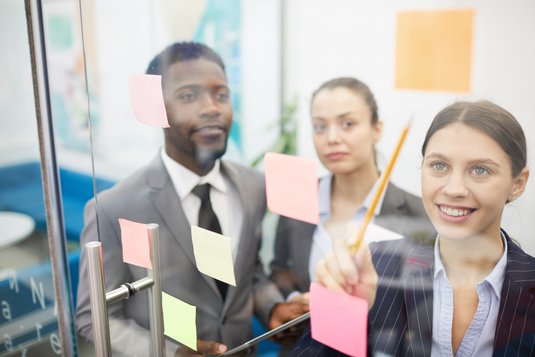 Do you work agile, for example according to Scrum, Kanban or SAFe? But the expected gain in speed does not materialize, or the progress is not visible? Unfortunately, such or similar effects are often found in practice.
But the good news is: agile works! We analyze what the reasons are in your environment and help you to remove obstacles so that you can fully exploit the advantages of agile SW development.
For example, we temporarily take over key roles such as Scrum Master or Product Owner, or lead your retrospectives, as coach or moderator. In this way we help you to implement agile methods sustainably.
If you are interested, please contact us, visit one of our seminars, or read more about our offer for agile software development.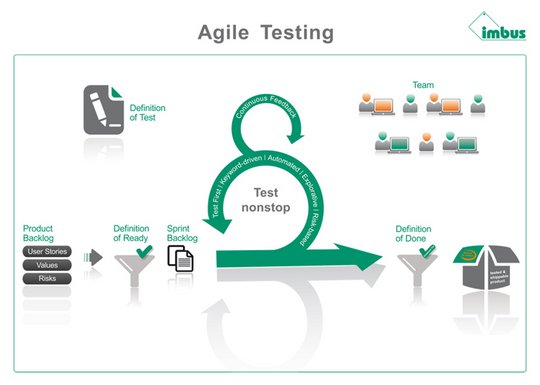 Going Agile
imbus supports you with successfully designing this change process. We help you to prepare your testing and QA staff for agile approaches, and to sustainably implement agile key technologies, such as continuous integration and test driven development. Our coaching helps your teams to learn new agile approaches quickly and to use them with confidence.

Strengthen team
Maybe you have to cope with bottlenecks in staff capacity?
An imbus "Agile Tester" as external employee can improve the team staffing or bring along special testing knowledge and agile knowledge and bring it in the team.
Reducing Feedback Cycles
In classical, phase-oriented working projects with, for example, half-yearly release cycles, it is often a matter of some weeks or even months after the beginning of the implementation that the system testing delivers its "feedback" about the project . If this feedback were available sooner, important development decisions would often be made differently, and many thousands of lines of code would be written differently and better. By implementing agile practices, such as "INVEST" and "pairing", problems in the requirements and defects in the software are detected, analysed and corrected, or even avoided completely, at the earliest possible stage. Feedback mechanisms at the end of the sprint help to ensure that the product, the process and the team are continuously improved.
Collaboration between developers and testers
Agile development with Scrum reduces the cycle time to sprints of between one and four weeks. Quality assurance and testing has to keep up with the increased frequency of the steps. This is necessary at all levels of testing – from unit tests to integration tests and on to system tests. From the test levels come the test activities, which run in "microcycles" of 24-hour duration. This means that an up-to-date and complete picture of the current development status and product quality is continuously available to all concerned. Any defects or possible corrections are discussed, prioritised and implemented straight away, or at the latest in the Daily Scrum. Crucial here is the collaboration between developers and testers. With T5, we analyze your current situation and show you how to improve testing in an agile team, for example, by introducing "pairwise testing".
You might find this also interesting