Finally automatically free travel!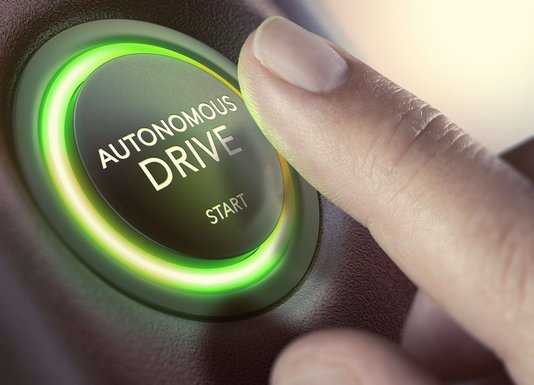 Do you know the moment when suddenly there is no vehicle to be seen for the next few kilometres on the motorway in the left-hand lane? The feeling when your own car accelerates almost by itself and gets faster and faster? If a truck suddenly overtakes you, this can lead to a dangerous and difficult to control situation on the road.
If you were now travelling with a self-propelled, autonomous vehicle, you would involuntarily ask yourself: How will my car react now? Full throttle and drive just past? Just keep driving and initiate an emergency stop at the last moment? Or get the obstacle in the right lane, slow down and decelerate until the truck changes back to the right lane?
It will certainly be some time before we will be able to travel in fully autonomous vehicles and sit back and relax in such a situation and entrust our lives to the artificial intelligence of the autonomous driving system without hesitation.
For this vision to become reality, the manufacturers of such AI-based autonomous systems must prove that they can not only develop fascinatingly disruptive prototypes - but that they can build autonomous systems that are absolutely safe. So safe that they can be trusted with their own lives without hesitation.
This is precisely the challenge of the future for professional testing and intelligent quality assurance of such systems.
What do autonomous systems mean for our everyday life?
Within the next ten years, many different types of partially or fully autonomous systems will become part of our everyday life. Whether in public spaces (road traffic, airspace, waterways), in companies or in the private sector - the possible applications are unlimited.
Typical examples are:
Motor vehicles (passenger cars, trucks) which partially or completely take over the function of the driver.1
Driverless transport vehicles, e.g. for logistics tasks and/or in production facilities.2
Seagoing vessels, boats, inland waterway vessels and other watercraft used e.g. for transporting goods.3
Driverless underwater vehicles or underwater robots, which e.g. independently carry out inspection or repair tasks under water.4
Driverless trains, suburban trains, underground trains or train systems for the transport of passengers or goods.5
Unmanned or pilotless aircraft, helicopters or drones.6
Mobile service or household robots, e.g. automatic lawn mowers or vacuum cleaners, which perform service work in the household and communicate with the "smart home" when necessary.7
A completely autonomous system will be able to solve or achieve a task or a predefined goal without any human intervention. It will be able to recognise situations and events within a certain spatial and temporal framework and interpret them in a way appropriate to the situation. He will be able to evaluate possible options for action and select and implement a suitable or the best option with regard to the goal to be achieved.
The daily challenges in people's lives, large and small, will thus be greatly facilitated. But can we simply rely on the fact that these systems will always function absolutely flawlessly? Even in long-term use?
What must be taken into account in the quality assurance of autonomous systems?
Manufacturers of autonomous systems need procedures and tools with which they can test the functionality and safety (keyword: safe & secure) of their products with economically justifiable effort and provide proof of this to the responsible approval authorities.
Typical errors and dangers when using autonomous systems are
injury to direct users, operators or passengers of the autonomous system
the infringement of uninvolved third parties by the autonomously moving system,
injury to animals or damage to objects or infrastructure within the operating radius of the system by the system, and
damage to the system itself, e.g. due to a manoeuvring error
In principle, the methods and best practices from the quality assurance of classical software systems (and here in particular the methods for testing safety-critical systems) are still applicable and useful for testing autonomous systems. Beyond that, however, quality assurance for autonomous systems has to include additional aspects:
Scenario-based testing as a new test method
Safety & Security as central quality features
Test driven development ("shift left" & "shift right")
For further information, please refer to the topic tiles listed below.
Is there a research project on quality assurance of autonomous systems?
With the initiative "Artificial Intelligence - Autonomous Mobility", the Bavarian State Ministry of Economic Affairs, Regional Development and Energy (StMWi) promotes innovations in the fields of artificial intelligence (AI) and data science in application areas such as mobility or logistics.
As part of this initiative, the "HolmeS3" project was officially launched on July 1, 2020.
Find out more...
How can imbus support you in testing autonomous systems?
No matter whether it is a driverless vehicle or an autonomously operating robot - the people who come into contact with this system must be able to rely on the fact that such an autonomous system will perform its tasks without error and will be safe.
The use and acceptance of this technology of the future therefore depends crucially on systematic, highly professional testing and sustainable quality assurance. This requires very good knowledge and comprehensive experience in classical software quality assurance. An experienced solution partner such as imbus provides its customers with the necessary security that their software-based products function reliably - and inspire their users.
And the other advantages of an experienced test partner?
Systematically tested systems reach (safe) marketability earlier.
High quality products ensure long-term competitiveness in the future market.
A professionally set up "Safe & Secure" protects against accidents and crime in connection with the systems.
imbus has been a leading solution partner in this area since 1992 - our range of services includes process improvement consulting, software test services and test outsourcing.
Make your company fit for the future and talk to our experts for testing autonomous systems. Arrange your exclusive consulting appointment now!
Das könnte Sie auch interessieren: